Community Continues to Support Drug Take Back Program
05/03/2022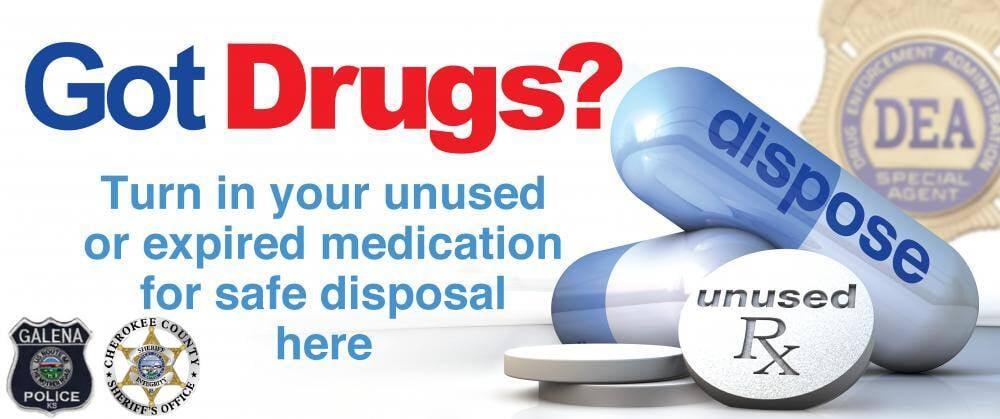 The Cherokee County Sheriff's Office turned over 430 pounds of prescription medications as part of the recent National Drug Take Back Event.
The nationwide effort to encourage the safe disposal of unwanted, expired or unused prescription drugs is sponsored by the United States Drug Enforcement Administration and has been held bi-annually since 2010.
"Our agency has participated in this program each year since its inception and the community has overwhelmingly supported the initiative. In the early years, we would collect roughly 100 pounds of prescription drugs per event, but as time has gone on the need and participation from the community has grown," according to Cherokee County Sheriff David Groves.
"As a result of the commitment demonstrated by our community to help keep unwanted or expired prescription drugs from unintentionally falling into the hands of children or from being stolen by those who abuse drugs, the Galena Police Department and the Cherokee County Sheriff's Office have each installed drop boxes in our respective lobbies to allow residents to safely dispose of prescription drugs any day throughout the year," concluded Sheriff Groves.
"With overdose deaths consistently increasing across the country and the state over the past several years, particularly with Fentanyl and opioids, getting unwanted and expired prescription drugs safely disposed of is important and the commitment demonstrated by our community continues to be great and very much appreciated," concluded Sheriff Groves.