You Drink. You Drive. You Lose. Enforcement Campaign Starting Soon
08/16/2021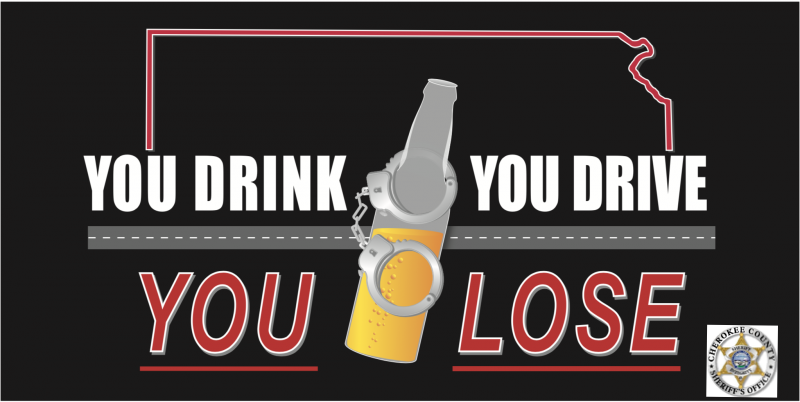 You Drink. You Drive. You Lose.
Motorists across Kansas can anticipate an increased law enforcement presence on roadways beginning August 20th and running through Labor Day, September 6th. Deputies with the Cherokee County Sheriff's Office will be joining agencies throughout the state in an enforcement campaign aimed at removing drunk and other impaired drivers from the roadways during *You Drink. You Drive. You Lose.
Despite being illegal to drive while impaired in every state, in 2019 over 10,000 people in the United States were killed in drunk driving crashes. Impaired driving fatalities every day are the direct result of decisions people make.
"Law enforcement often sees an increase in traffic during the Labor Day Holiday period because many families are trying to get in one last trip to the lake or one last outing before the official end of summer," according to Cherokee County Sheriff David Groves.
"Some early travel forecasts indicate about a 35% increase in Labor Day travel this year compared to pre-covid. As a result, our agency and others across the region and state will be enhancing patrols focused on removing impaired drivers and watching for those not restrained or demonstrating erratic driving patterns, in an effort to keep families safe," concluded Sheriff David Groves.
*This traffic enforcement campaign is supported by a federal grant from the Kansas Department of Transportation.