Click It Or Ticket Enforcement Campaign Announced
05/19/2021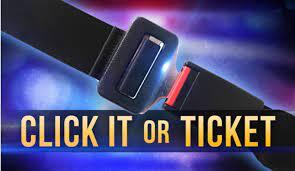 The Cherokee County Sheriff's Office will be joining law enforcement across Kansas as part of the upcoming Click It or Ticket Campaign.
Starting May 21st and continuing through May 31st, motorists will notice an increased law enforcement presence on roadways.
Funding for the enforcement program is supported by a grant from the Kansas Department of Transportation.
"As summer gets underway, and many families hit the road for the long Memorial Day weekend, law enforcement wants to help make sure everyone gets to and from their destinations safely," stated Cherokee County Sheriff David Groves in announcing the campaign.
"Law enforcement will be paying particular attention to motorists who choose not to wear their seatbelts, display dangerous driving habits and drive while under the influence," continued Sheriff Groves.
According to the Kansas Department of Transportation, the aim of the Click It or Ticket campaign is to drastically reduce the number of preventable deaths and injuries that occur when unbelted drivers and passengers are involved in traffic crashes. About 345 persons are involved in 170 crashes each day in Kansas. Only 7% of those that are unbelted are likely to escape without injury. Half of all fatalities occur among those who are not wearing a seat belt.