Sheriff Offers Halloween Safety Tips
10/26/2020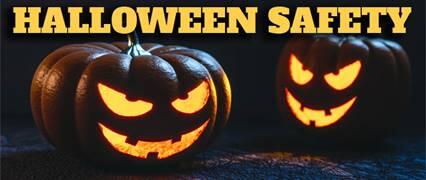 Like many things, Halloween may look different this year than it has in the past. Due to concern for spreading Covid-19, several communities and organizations have made the decision not to host "safe walk" or "trunk or treat" events. Those events have proven to be safe alternatives to neighborhood door to door trick-or-treating over the years so as families decide how they will recognize Halloween with their children this year, Cherokee County Sheriff David Groves wants to provide the following safety tips to help keep kids safe:
A responsible adult should always accompany children ages 12 and under when trick-or-treating
Ensure costumes fit well and do not obstruct visibility
Have trick-or-treaters wear reflective clothing or carry a light / glow stick
Make sure children only trick-or-treat at homes okayed by parents
Teach children not to go into homes without your permission and only approach homes that are well-lit
Make sure children know their address and parents phone number, in case they get seperated
"We want all area children and families to have a safe and enjoyable Halloween, so in addition to the safety reminders listed above, we encourage parents to go to our website, www.cherokeecountykssheriff.com, where they can check for any publicly registered offender within a two-mile radius of their home," according to Sheriff Groves.
"Finally, we want to remind parents to encourage their children to walk on sidewalks and not in the roadway. Along those same lines, adults who are driving should be extra vigilant on Halloween night, focusing on the road, driving at safe speeds - especially in residential neighborhoods - and be watchful for young trick-or-treaters who may forget to look both ways before crossing roadways," concluded Sheriff Groves.