Community Cookout Planned As Part of National Faith and Blue Weekend
09/30/2020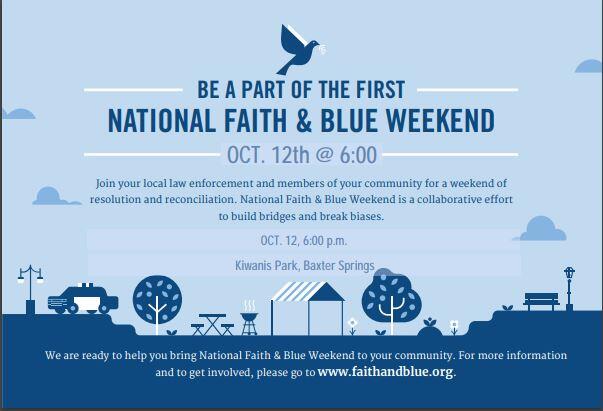 Cherokee County Faith Organizations and law enforcement agencies invite residents to a community cookout as part of the first annual National Faith and Blue Weekend, Monday, October 12th, 2020, 6:00 p.m. at Kiwanis Park on the east side of Baxter Springs.
"Given everything that's going on across the country, with tensions high in many communities, there is a nationwide effort to help strengthen the bond between law enforcement and the communities we serve," stated Cherokee County Sheriff David Groves.
"Although we are incredibly blessed in our area to already have a strong relationship between law enforcement and residents, this event - which is being organized and spearheaded by leaders of our faith community - will provide yet another opportunity to strengthen those relationships," continued Sheriff Groves.
More information on the National Faith and Blue Weekend, which is endorsed by the Kansas Sheriff's Association and the National Sheriff's Association, can be found at faithandblue.org.
###