$10,000 Reward Offered For Information Leading to Discovery of Karol Sullens
08/31/2020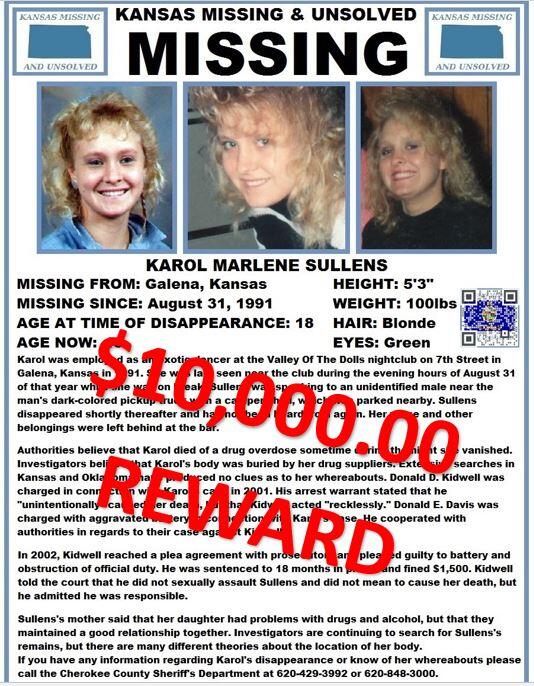 On the night of August 31, 1991, Karol Marlene Sullens disappeared from a Galena, Kansas nightclub, never to be seen again.
In April, 2002, Donald D. Kidwell was sentenced in connection to Karol's disappearance, although her body has never been recovered.
"For the past 29 years, Karol's family has had to struggle with not being able to properly lay her to rest. That's an anguish which continues with each passing day," stated Cherokee County Sheriff David Groves.
"In an effort to locate Karol's remains, through private funds, today we are announcing a $10,000.00 reward for information which directly leads to her discovery."
"Our hope - and the hope of Karol's family - is that someone who has direct knowledge of where her body is located will be compelled now, after all these years, to come forward and speak up," concluded Sheriff Groves.
If someone has specific information as to the location of Karol's remains, they can contact the Cherokee County Sheriff's Office at 620-429-3992, 620-848-3000, by visiting the agency website at www.cherokeecountykssheriff.com or by texting 888777. Just type 'tip cherokee' followed by the specific information they wish to provide.
###