Statewide Crime Report Released
08/10/2020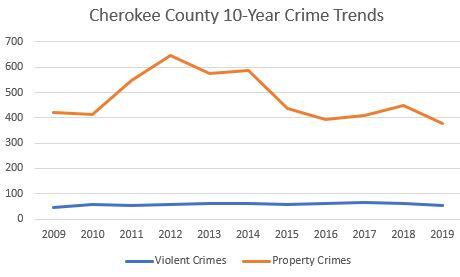 Statewide Crime Report Released
The Kansas Bureau of Investigation released their 2019 crime report late last week.
"Information contained in the KBI's annual statewide report is mostly consistent with what we have experienced here locally in Cherokee County," according to Sheriff David Groves.
"Looking across the state, there was a slight increase of 2.6% in violent crimes, which for these purposes are specific to murder, rape, robbery and aggravated assault and battery. In Cherokee County, however, we saw a 13.3% decrease in the violent crime category in 2019, when compared to 2018."
"Property crimes across the state continued a downward trend by 6.8%, which is consistent with the trend we have seen in Cherokee County, with a 16.4% decrease in property crimes when comparing 2019 to 2018," continued Sheriff Groves.
"I think while there are several factors which have helped us as a community push these crime trends in a downward direction, the combination of engaged citizens who provide timely reports of suspicious activity in their neighborhoods coupled with the professionalism and dedication of our area law enforcement, have to be ranked at the top. Along those lines, we encourage anyone who wishes to report criminal or suspicious activity to contact our office, visit our website at www.cherokeecountykssheriff.com or text 'tip cherokee' to 88877," concluded Sheriff Groves.
###