Scams Emerging Amid COVID-19 Spread
03/20/2020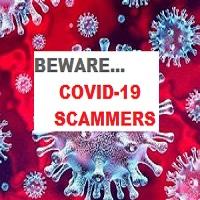 As the Coronavirus continues to spread throughout the country, the Cherokee County Sheriff's Office wants to encourage residents to keep their guard up for scams.
"Several scams have already started in parts of the country and we want to make sure our residents recognize them as what they are, which is nothing more than thieves trying to prey on people who may be more vulnerable due to anxiety and fear," stated Cherokee County Sheriff David Groves.
"It's important to remember no U.S. Government Agency will call or email you to ask you to pay for something up front, ask for your bank, credit or debit card numbers or ask for your social security number."
"If you get a call, text, email, or even a computer-generated message (robo-call) from someone who claims to be from an official government agency, such as the CDC or Social Security Office, suggesting they are calling about your Medicare, Medicaid, unemployment benefits, etc... or if they claim to be contacting you about your need to get COVID-19 tested, please recognize it as a scam. The Federal Trade Commission has confirmed these scams are starting to develop across the country and just as I have done in the past, I encourage you to immediately hang up or delete the message. Don't feel obligated to be polite to those who are trying to steal from you. You don't have to talk to them, click on the link or push a button, just hang up," advised Sheriff Groves.