Severe Weather Awareness Week
03/02/2020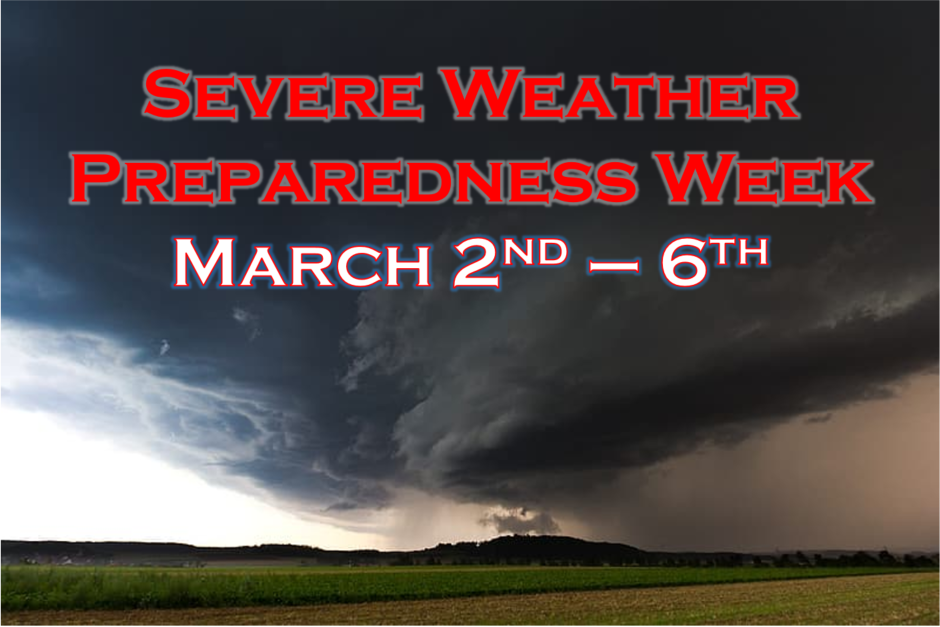 March 2nd through the 6th has been designated Severe Weather Awareness Week in Kansas. Throughout the week, emergency service agencies will be reviewing response plans, sharing information and tips with the public and helping citizens become prepared during the inevitable spring storms on our horizon.
The National Weather Service reports 40 confirmed tornadoes in Cherokee County alone since 1950, resulting in several deaths and numerous injuries.
"In addition to tornadoes, which is probably the threat most people think of and are most concerned with, flooding is also a very real issue for our area. Flash flooding not only impacts those who live in flood prone areas, but also our deputies and firefighters, as each year they conduct numerous rescues for those who make the risky decision to drive through flood waters. Last year, according to the National Weather Service, was one of the wettest years on record with annual precipitation anomalies at 20 to 30 inches above normal," continued Sheriff Groves.
"Severe Weather Awareness Week is not only a time for emergency service personnel to re-evaluate plans, but for families and organizations, such as churches and work places, to do the same. We recommend everyone being prepared to be self-sufficient for a minimum of 72 hours, should utilities be knocked out, phone service disrupted or conditions make roads inaccessible."
"Just as each family should have a plan as to what they are going to do in the event of a house fire, they should also have a plan - and practice it - for the event of a natural weather related disaster. We recommend part of the plan include having access to necessary items should a disaster strike or severe weather be imminent. Some of those items include a battery operated NOAA Weather Alert Radio, Flashlight with fresh batteries, adequate supply of prescription medication, bottles of water and blankets."
"Finally, emergency personnel reminds everyone that outdoor warning sirens are designed to notify those who are outdoors. They are not designed to be heard inside of your home or business, which is why a Weather Alert Radio becomes important. As we all know, especially this time of year, the forecast and weather conditions can change quickly and severely without advanced notice, which is all the more reason for us to remain vigilant throughout the day," concluded Sheriff Groves.