Arrest Made in Felony Theft Case
06/06/2019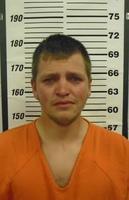 Dillon Michael Tash
A joint investigation by the Cherokee County Sheriff's Office and Galena Police Department led Sheriff's Deputies to seek and obtain a search warrant for a Galena home on Wednesday, June 5th.
The warrant was executed on Wednesday evening as part of an investigation into the theft of thousands of dollars' worth of electronics and jewelry from a rural Galena home in mid-May.
According to Sheriff David Groves, some of the stolen property has been located while authorities continue to search for the remaining items.
Arrested at the scene Wednesday evening was 21-year-old Dillon Michael Tash. He was transported to the Cherokee County Jail on allegations of felony theft. He was released from custody after posting $1,500.00 bond.