Be Aware of Roofing Scams
05/20/2019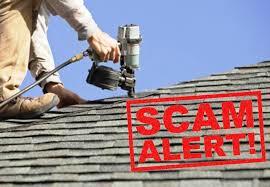 With many residents experiencing roof damage as a result of recent storms, the Cherokee County Sheriff's Office wants to issue a caution about potential scams.
"While most roofers are professional and reputable, some thieves will pose as roofers to take advantage of those who suddenly receive storm damage. They often require at least a partial payment to purchase the necessary supplies but never return once they leave with the money," according to Cherokee County Sheriff David Groves.
In Kansas, roofers are required by law to be approved by the Kansas Attorney General's Office prior to performing work, and only after meeting certain requirements and providing proof of certifications and liability insurance.
"If someone approaches you about wanting to repair roof damage to your home or building, you should insist they provide a copy of their Kansas Attorney General approved license and any applicable city business license," continued Sheriff Groves.
To find a list of already approved and licensed roofers, you can visit the Kansas Attorney General Website at: Kansas Roofing Registration Directory.