Suspected Murderer Diana Bohlander In Custody
04/21/2019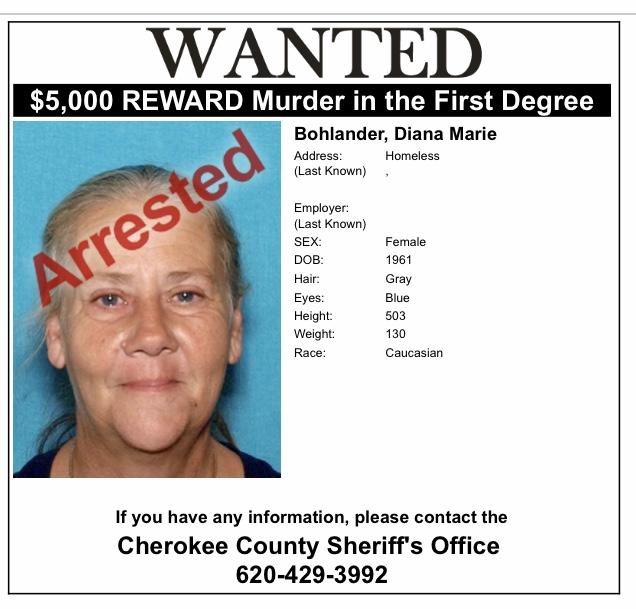 A second suspect wanted in connection to the April, 2017 murder of 64-year-old James McFarland is now in custody.
Diana Bohlander, 57, surrendered to authorities in Santa Barbara, California on Sunday morning.
Investigators with the Cherokee County Sheriff's Office sought charges of First Degree Murder against Bohlander and her son, Ty Bohlander, not long after McFarland's body was discovered alongside a rural county road on April 30, 2017.
Ty Bohlander was captured in Santa Monica last month and has since been extradited back to the Cherokee County Jail.
"In the days following the discovery of Mr. McFarland's body, our investigators developed information leading us to believe the Bohlander's fled to Southern California, but then the trail went cold," according to Cherokee County Sheriff David Groves.
"When Ty was captured last month, more information became available leading us to believe Diana was also still in that area operating under the alias name of Heather Mimms. Our office worked closely with California and national media outlets and our investigators worked diligently with the Santa Monica Police Department and some of Diana's family and associates in an effort to either locate and apprehend her, or encourage her to turn herself in to authorities."
Earlier this month, Kansas Governor Laura Kelly authorized a $5,000.00 reward for information leading to Diana Bohlander's capture.
"I'm pleased that after two years of running, both suspects are now in custody and soon both of them will be back here to answer the charges against them," concluded Sheriff Groves.