Suspect Arrested While Trying to Flee into Mexico
04/20/2019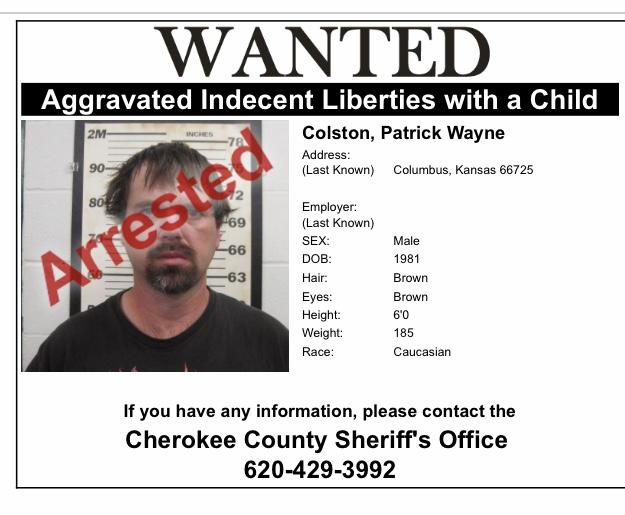 A rural Columbus man facing charges of Aggravated Indecent Liberties with a Child was captured earlier today while attempting to enter Mexico at the Brownsville Texas border crossing.
Patrick Colston, 38, was initially arrested in April 2016 following an investigation by Cherokee County Sheriff's Investigators into allegations he engaged in unlawful sexual acts with a minor in November 2014.
At the time of his arrest, Colston's bond was set at $100,000.00. He was released from custody in October 2017 after posting bail.
An arrest warrant was issued for Colston earlier this year after he failed to appear at a scheduled court hearing.
"Our investigators have been working diligently to locate and apprehend Colston over the past several months," according to Sheriff David Groves.
"While attempting to locate him, detectives obtained information indicating Colston either was, or was in the process, of trying to flee into Mexico. Believing he was out of our immediate area, we contacted our federal law enforcement partners and Colston was apprehended by U.S. Customs Officials at the Mexico border."
"Considering the particularly disturbing charges involving a child, in addition to other unrelated charges of conspiracy to commit arson and theft which this suspect also faces, I'm proud of the diligence our detectives demonstrated in their efforts to locate Colston, and the great work by our federal partners, leading to his apprehension."
"Moving forward, Colston will have a court appearance in Texas and either waive or fight extradition at which point, we will make the necessary arrangements to have him transferred back to our custody to face the allegations against him," concluded Sheriff Groves.