Search Warrant Leads to Arrest
11/16/2018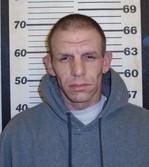 Travis Degonia
Investigators with the Cherokee County Sheriff's Office executed a search warrant on a Crestline home Thursday afternoon.
During the course of the search, suspected methamphetamine, marijuana and drug paraphernalia was located and seized.
Arrested at the home was 37 year-old Travis Degonia. He was transported to the Cherokee County Jail , where he is being held without bond on allegations of Possessing Methamphetamine, Possessing Marijuana and Possessing Drug Paraphernalia. Degonia also has an outstanding felony narcotics warrant for his arrest from Newton County, Missouri and a misdemeanor arrest warrant from the City of Frontenac.