Second Suspect Arrested in Meth Lab / Burglary Investigation
10/02/2018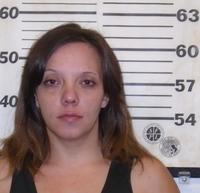 Shayna Cowgill
A second suspect has been arrested in connection with a meth lab, which was discovered at a rural Riverton home on August 26, 2018.
Shayna Nichole Cowgill, 32, of Riverton, surrendered to the Cherokee County Sheriff's Office on Monday afternoon. Cowgill is in custody on charges of Manufacturing a Controlled Substance, Possession of Methamphetamine, Possession of Drug Paraphernalia, Possession of Stolen Property, and three counts of Aggravated Child Endangerment. Her bond has been set at $51,500.00.
Cherokee County Sheriff's Office investigators executed a search warrant on Cowgill's home during the course of a residential burglary investigation. While searching the home, a suspected meth lab was discovered and agents with the Kansas Bureau of Investigation responded to assist with the meth lab clean up.
Arrested at the scene on August 26th, was Adam Curran Evans, of the home. Evans remains in the Cherokee County Jail in lieu of $66,000.00 bond on charges of Manufacturing Meth, Possession of Meth, Possession of Drug Paraphernalia, Aggravated Child Endangerment, Burglary and Theft.