Thousands of Dollars in Stolen Property Recovered, Cherokee Man Jailed
08/20/2018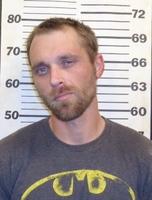 Nathan Moss
Just before 6:00 a.m. on Saturday, August 18, 2018, a pursuit which began in Pittsburg ended west of Columbus, where the suspect, identified as Nathan James Moss, 32, of Cherokee, resisted arrest before being taken into custody. In Moss' vehicle, deputies discovered two stolen firearms, suspected methamphetamine, marijuana and drug paraphernalia. Moss was taken to the Cherokee County Jail.
On Sunday afternoon, a Judge ordered Moss remain incarcerated in lieu of $75,000.00 bond on allegations of Possessing Stolen Property, Criminal Use of a Firearm, Criminal Possession of a Firearm, Possession of Meth, Marijuana and Drug Paraphernalia, Obstruction of Justice, and Driving While Suspended.
On Sunday evening, Cherokee County Sheriff's Office investigators obtained a search warrant on Moss' home and executed it with assistance from the Crawford County Sheriff's Office and Cherokee City Police.
"During the course of this investigation, we have recovered multiple truckloads of stolen property, valued in the tens of thousands of dollars. Some of the property includes tools, firearms, electronics, checks and personal items," stated Cherokee County Sheriff David Groves.
"At this point, investigators are still processing the evidence, but have already tied some of the property to recent residential and business burglaries in Cherokee and Crawford Counties. Any time we can recover stolen property, get it back to its rightful owners and take the suspect into custody to be held accountable for his or her actions, that's a success."
"This case serves as a great example of the regional partnership among law enforcement, as well. We appreciate the assistance received from the Crawford County Sheriff's Office, Pittsburg Police Department, Arma Police Department and the Cherokee City Police over the weekend," concluded Sheriff Groves.
The investigation remains ongoing with additional charges expected and additional arrests possible.