Drugs and Gun Seized in Early Morning Stop
07/31/2018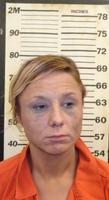 Stevie Anne Greenfeather
Drugs and Gun Seized in Early Morning Stop
Just after 3:00 a.m., on Tuesday, July 31, 2018, a Cherokee County Sheriff's Deputy stopped to make contact with the driver of a 2009 BMW on South Military Avenue in Baxter Springs. Initially, it appeared the driver may be having car trouble.
While speaking with the driver, a suspected meth pipe was observed lying in the vehicle, leading the deputy and a Baxter Springs Police Officer to search the vehicle.
During the course of the search, suspected methamphetamine, unlawfully obtained prescription drugs and a handgun was also discovered.
Arrested at the scene was Stevie Anne Greenfeather, 32, of Neosho, Missouri. She was transported to the Cherokee County Jail, where she remains in lieu of $17,000.00 bond. Greenfeather is being held on allegations of Possessing Methamphetamine, Possessing A Controlled Substance, Possession of Drug Paraphernalia and Criminal Use of a Weapon.