Violent Altercation Leads to Arrest
07/24/2018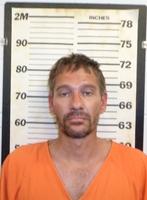 Tim Green
A Galena man is being held in the Cherokee County Jail following a Monday afternoon altercation, resulting in the hospitalization of 37-year-old Dustin Baker, also of Galena.
Just prior to 2:30 p.m. on Monday, July 23rd, the Cherokee County Sheriff's Office was contacted by the staff at a Joplin, Missouri Hospital, who reported Baker had arrived by private vehicle to be treated for a gunshot wound.
During the course of the investigation, detectives executed a search warrant on the home and vehicle of 41-year-old Tim Andrew Green. Green was arrested and is currently being held in the Cherokee County Jail in lieu of $21,500.00 bond on allegations of Aggravated Battery with a Deadly Weapon, Criminal Possession of a Firearm, Criminal Use of a Weapon, Possession of Marijuana and Possession of Drug Paraphernalia.
Baker is still hospitalized and is being treated for non-life-threatening injuries.
The investigation remains ongoing and additional arrests are anticipated.