Drug Take Back Scheduled for Saturday
04/23/2018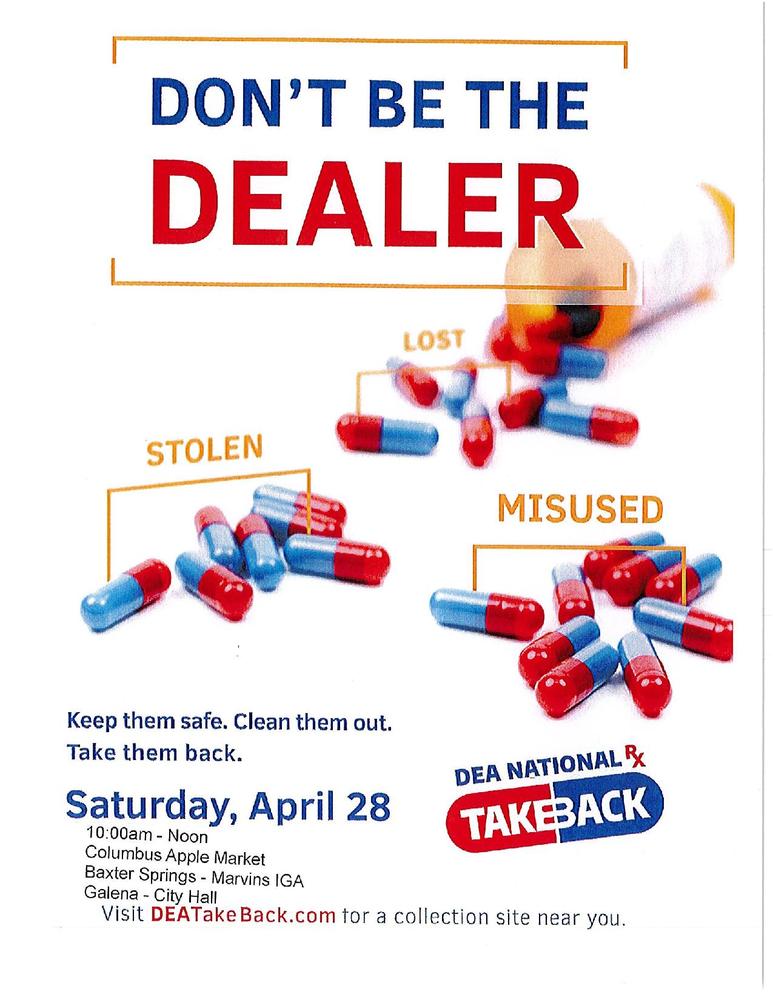 COLUMBUS, KANSAS] – Citizens in Cherokee County will have an opportunity to safely dispose of any expired, unused, and unwanted prescription drugs on Saturday, April 28th, 2018.
The Cherokee County Sheriff's Office and Galena Police Department are once again teaming up for the 14th Drug Take Back Day, which is a nationwide event, sponsored by the United States Drug Enforcement Administration.
"Just as we have in the past, law enforcement will be set up at the Apple Market in Columbus, Monarch Pharmacy in Baxter Springs and the Galena City Hall, giving residents multiple convenient locations to rid their medicine cabinets from any unwanted or expired prescription drugs," stated Cherokee County Sheriff David Groves.
"Prescription drug abuse is an increasing problem, with abuse of opiods, such as morphine and fentynal, destroying families and communities all across America. This is an excellent opportunity to safely dispose of those, or any other drugs, before they are accidently taken by children or intentionally stolen and abused by adults," concluded Sheriff Groves.
Since the beginning of the National Drug Take Back Event, over 8 million pounds of drugs have been collected, including thousands of pounds here in Cherokee County.
###