Investigation Into School Threat Leads to Arrest
04/11/2018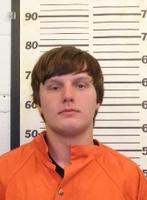 Colten Speer
On April 11, 2018, the Federal Bureau of Investigation contacted the Cherokee County Sheriff's Office, regarding a concern they received about a potentially violent act occurring at an area school.
Sheriff's Office investigators reviewed documents provided by the FBI, along with online content allegedly posted and shared by the 19 year-old suspect, Colton Rodger Speer. Speer was quickly located at his rural Cherokee County home and placed into custody on suspicion of Aggravated Criminal Threat. He is currently being held in the Cherokee County Jail.
Cherokee County schools and law enforcement throughout the county implemented their school emergency plans until being alerted to the suspects' arrest.
"Threats and comments about school violence are very concerning," stated Cherokee County Sheriff David Groves. "They are taken seriously by law enforcement, the Cherokee County Attorney's Office, school officials and parents. We are committed to working together to keep our area schools safe, and as part of that effort, anyone making threats to commit violence will be held accountable accordingly," concluded Sheriff Groves.
###