Second Suspect Arrested in Residential Burglary
04/03/2018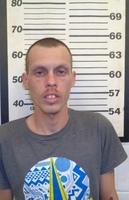 Nathan Clark
Cherokee County Sheriff's Office Detectives located and arrested Nathan Lee Clark, 30, of Baxter Springs, Monday night after a warrant had been issued for his arrest.
Criminal charges of Burglary, Theft and Interference with Law Enforcement stem from an investigation into the burglary of a a rural Cherokee County home on March 4th, 2018, where guns, money and jewelry were stolen. Investigators recovered the property over the course of the next two days.
Nathan Clark's brother, 26 year-old Corey Jae Clark, was also arrested in connection with this case, after authorities found him in Washington County, Arkansas on March 9th.
"As I said initially, I appreciate the efforts of our investigators who have worked hard to not only locate and return the stolen property to its rightful owner, but to also safely and successfully apprehend those we believe to be responsible for these criminal acts," stated Cherokee County Sheriff David Groves.