Cherokee County Sheriff's Office and Galena Police Department Teams Up for Drug Take Back Event
10/19/2017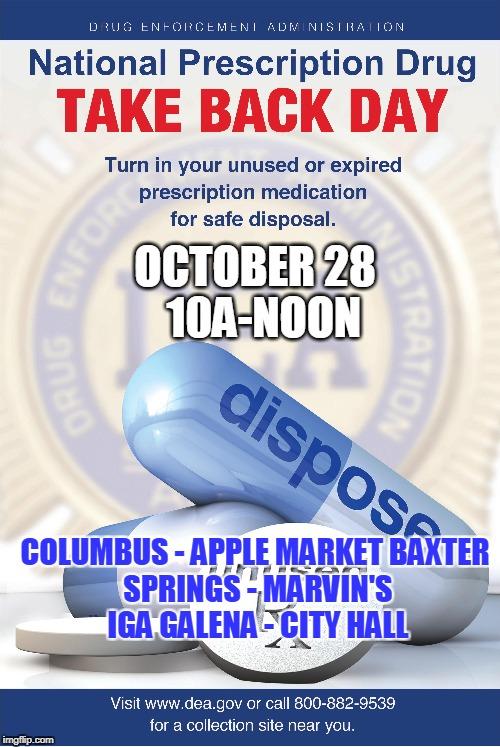 Cherokee County Sheriff's Office and Galena Police Department Teams Up for Drug Take Back Event
[Columbus, Kansas] – On Saturday, October 28, from 10 a.m. to 12 p.m. the Cherokee County Sheriff's Office and Galena Police Department will join the U.S. Drug Enforcement Administration and law enforcement agencies across the country to give the public its 14th opportunity in 7 years to prevent pill abuse and theft by ridding their homes of potentially dangerous expired, unused, and unwanted prescription drugs.
Residents can drop off their unwanted drugs at Apple Market in Columbus, Marvin's IGA in Baxter Springs or the Galena City Hall.
"This program has proven successful locally and nationwide," according to Cherokee County Sheriff David Groves.
Last April Americans turned in 900,000 pounds of prescription drugs at almost 5,500 sites operated by the DEA and more than 4,200 of its state and local law enforcement partners. Overall, in its 13 previous Take Back events, DEA and its partners have taken in over 8.1 million pounds of pills.
"With the high prevalence of prescription drug abuse and the opioid crisis, an initiative like the Drug Take Back Program helps address a vital public safety and public health issue. We know the longer medicines languish in homes, they more susceptible to diversion, misuse and abuse they become."
"In addition to those who choose to abuse or misuse prescription drugs, we also have concerns about children or others accidentally getting a hold of those drugs and unintentionally overdosing. The Drug Take Back Program provides a safe way for residents to dispose of drugs without introducing them into our waterways," concluded Sheriff Groves.
##