Parents Encouraged to Sign Up for Registered Offender Alerts
08/16/2017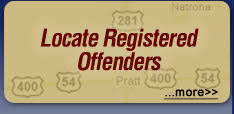 Parents Encouraged to Sign Up for Registered Offender Alerts
As the new school year gets underway, the Cherokee County Sheriff's Office has been working to make sure Registered Offenders are compliant and their information is up to date.
"There are currently over 120 registered sex, drug and violent offenders in Cherokee County," according to Sheriff David Groves. "During our recent compliance checks, some arrests were made for suspected violations of the Kansas Offender Registration Act and additional arrests are likely."
"This is a great time of year for to remind residents of our online offender registration monitoring program, through OffenderWatch. This service is funded with fees collected from the offenders, so we are able to offer it to the public at no cost. I encourage parents, grandparents and all Cherokee County citizens, to take a moment, go to our website, www.cherokeecountykssheriff.com, and register your home address along with the addresses of your kids' school and other locations they frequently go, such as a sitter, park, etc... Our office will send an email alerting you to any offender living or moving into up to a two-mile radius of that address," continued Groves.
"With Kansas being a state that does not prohibit offenders from living near schools or daycare's, it's important for parents to have the information needed to help keep their kids safe," concluded Sheriff Groves.