Severe Weather Awareness Week
03/10/2017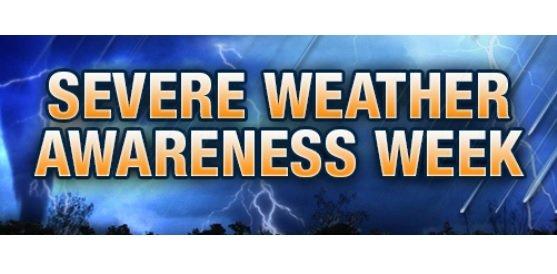 Severe Weather Awareness Week is concluding in Kansas, and what better week could we have had to illustrate how serious and rapidly changing our weather can be. We've had beautiful warm springlike days, severe thunderstorms with hail and strong winds with potential tornados and even a chance of snow in the forecast.
Regardless of it being a snow and ice storm leaving residents without power and ability to drive on the roadways, or a thunderstorm causing power outages and flash flooding, the Cherokee County Sheriff's Office and Office of Emergency Management wants all of our residents to be prepared to care for themselves and their families, whenever severe weather arrives.
As a good rule, it is always a good common practice for each family to be prepared to be self-sufficient for 72 hours. Some basic tips to remember this time of year include:
Obtain and monitor an NOAA weather radio for up to date information from the National

Weather Service

Text your Cherokee County zip code to 888777 for weather related text alert

Make sure you have an appropriate supply of medical necessities, including prescription

medications

Practice tornado drills with your family. Don't wait until a warning is issued and then try

to decide what to do. Also, have a plan in place for what you will do if a tornado warning

is issued while you are at work.

Keep in mind, tornado sirens are designed to alert those outside of their homes. If you

are indoors, you most likely won't hear them.

Have a 'survival kit' ready, with a flashlight, batteries, first aid kit and solar cell phone

charger, along with bottled water and non-perishable food items.

Know where the nearest storm shelter in your community is and the rules with which

they operate. Shelters are not maintained or operated by the county, but rather, each

specific organization, such as schools, city, churches, etc…

If there is water over the roadway, do not drive through it.
Finally, we would like to remind everyone about the differences in a watch versus a warning. A watch is issued whenever conditions are favorable that a storm (severe thunderstorm, tornado, etc…) may develop. It does not mean severe weather is imminent, just possible. A warning, however, means the severe weather is imminent and specific criteria and existing reports have been received by the National Weather Service.
###