Softball Fundraiser a Success!
09/26/2016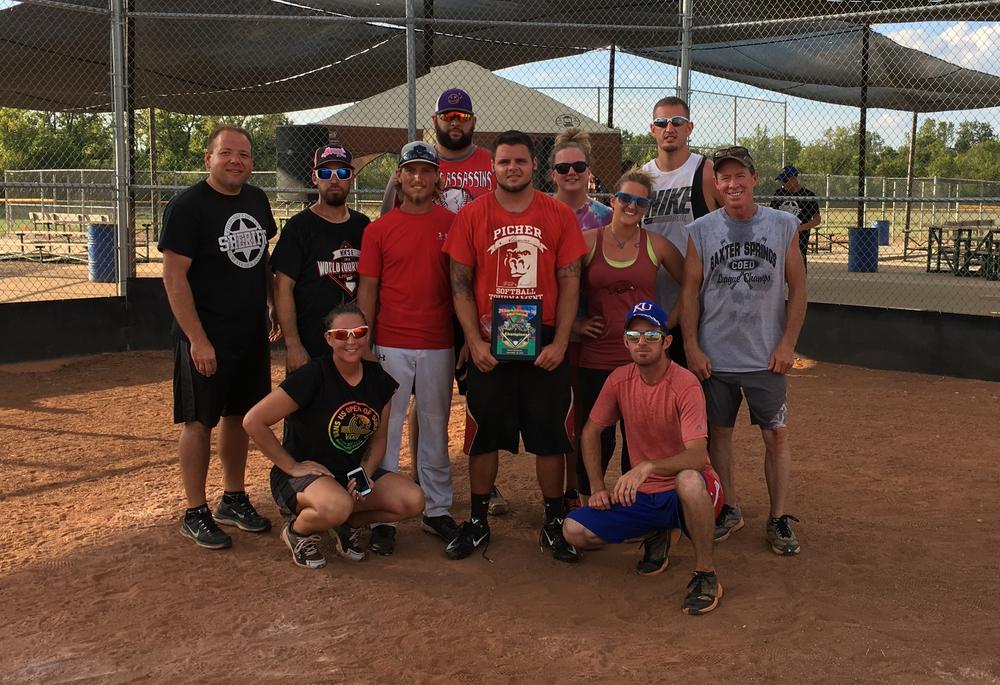 Photo: Sheriff David Groves (left) presents OFF the championship plaque after they went undefeated in the 2016 Badge Bash for Christmas Cash Softball Tournament on Saturday
Fundraiser Nets Nearly $1,500.00 For Area Kids
On Saturday, September 26, 2016, the Cherokee County Sheriff's Office hosted the first Badge Bash For Christmas Cash Softball Tournament at the Route 66 Sports Complex in Baxter Springs.
Seven area teams competed in the double elimination softball tournament, which raised nearly $1,500.00 for the Cherokee County / KOAM-TV Toybox Campaign, which provides toys to area children at Christmas.
Local team, OFF, went undefeated and faced the Columbus Fire Department in the final game, ultimately winning the championship.
"This was the first year for the softball fundraiser and we are really excited to be going into the holiday season with some money to help make Christmas a little more special for area kids," stated Sheriff Groves. "We certainly appreciate all the teams who competed, the volunteers who helped officiate, keep score, ready the fields and so much other behind the scenes work, as well as Cherokee County Toybox Board Member, Joanna Derfelt who helped keep things running on game day. Everyone really came together to make sure this was a fun filled and successful event," concluded Sheriff Groves.
###