Deputy Deb Brooks Retires from CKSO after 27 Years of Service!
05/17/2016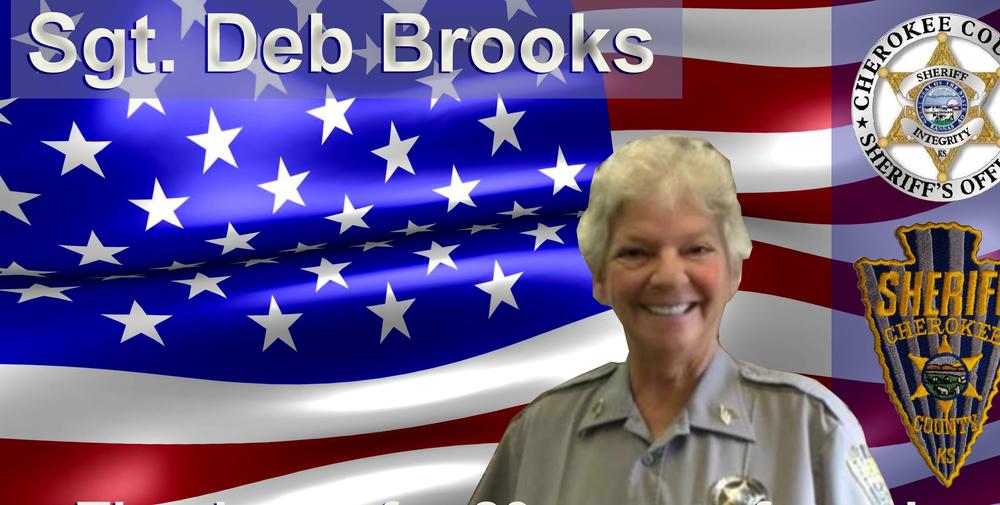 Last week, the Cherokee County Sheriffs Office was proud to celebrate the career and retirement of Sgt. Deb Brooks.
Deb was hired by the Galena Police Department in 1989 as a dispatcher and matron.
In 1994 she told the Galena Chief of Police she wanted to attend the Kansas Law Enforcement Training Center and become a certified officer. The Chief obliged her request and after graduating from KLETC, Deb became the first certified female officer in Cherokee County history.
Since that time, Deputy Deb (as she has become known by), has served with both the Galena Police Department and the Cherokee County Sheriffs Office. Most recently, Deputy Deb served as a Sheriff's Deputy assigned as the School Resource Officer for Baxter Springs and Galena School Districts.
"Deputy Brooks has served the citizens of Cherokee County, in one law enforcement capacity or another, for 27 years. In any profession, especially law enforcement, that is an achievement to be proud of," stated Cherokee County Sheriff David Groves.
"Throughout those years, Deb has seen a lot of changes in the law enforcement profession but one thing that stayed the same was her commitment to helping those in our community who were experiencing difficult times. I'm proud that Deb had the courage to become the first certified female officer in the county and that since then has remained a part of the Cherokee County law enforcement family. I'm also grateful for the service she has provided to our county and am thankful she is now able to enjoy her retirement with her family," concluded Sheriff Groves.
###