Platinum Award Presented to Cherokee County Sheriff's Office
05/03/2016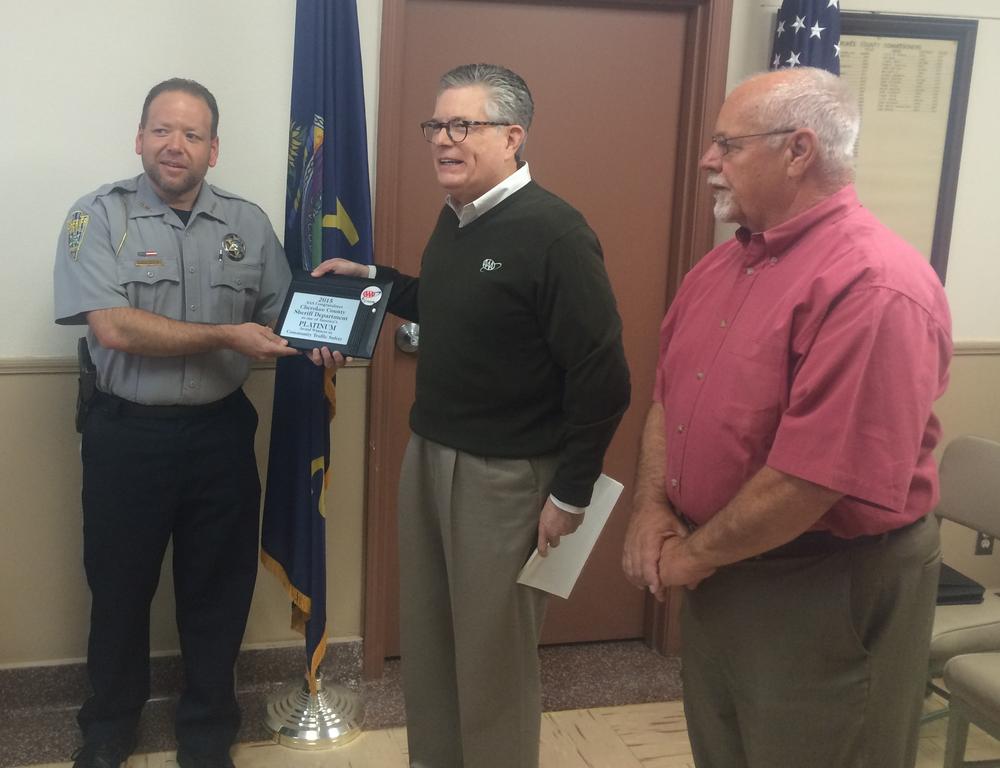 Platinum Award Presented to Cherokee County Sheriff's Office
Executive Vice-President Jim Hanni, from AAA of Kansas, came before the Board of Cherokee County Commissioners on Monday to present an award to the Cherokee County Sheriff's Office.
This is the 5th straight year the Sheriff's Office has received AAA's Community Traffic Safety Award. In 2011 and 2012, the agency received gold awards, but for the past three years, the Sheriff's Office has been the recipient of their platinum award.
"It's an honor for the Cherokee County Sheriff's Office to be one of only two Sheriff's Office's in the State of Kansas to have earned the platinum award and I know that it's only possible because of a coordinated approach to traffic safety, which includes law enforcement, businesses, schools and our residents," stated Cherokee County Sheriff David Groves.
In presenting the award, Vice-President Hanni commended the Sheriff's Office for their work to help reduce senseless injuries and deaths stemming from vehicle crashes. Vice-President Hanni mentioned specifically the efforts made during special enforcement campaigns such as Click It Or Ticket, You Drink You Drive You Lose, enhanced enforcement over the holiday weekends, mock crashes at area schools and working with the Kansas Department of Transportation to identify and address areas of concerns. Hanni also remarked that not only has the SAFE (Seatbelts Are For Everyone) Program proven to be successful in Cherokee County High Schools but the adult seatbelt usage rate has similarly increased, currently up to 91%.
###