Drug Take Back Set for April 30th
04/22/2016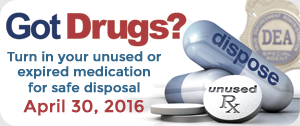 Cherokee County Sheriff's Office to Collect Drugs On April 30th
[Columbus, Kansas] – On April 30th from 9 a.m. to 12 p.m., the Cherokee County Sheriff's Office and the Drug Enforcement Administration (DEA) will give the public its 11th opportunity in six years to prevent pill abuse and theft by ridding their homes of potentially dangerous expired, unused, and unwanted prescription drugs. As they have done in the past, the Sheriff's Office will be setting up three locations throughout the county to make participating even easier for residents. Deputies will be at Apple Market in Columbus, Marvin's IGA in Baxter Springs and the Galena City Hall. The service is free and anonymous.
Last September, Americans turned in 350 tons (over 702,000 pounds) of prescription drugs at more than 5,000 sites operated by the DEA and more than 3,800 of its state and local law enforcement partners. Overall, in its 10 previous Take Back events, DEA and its partners have taken in over 5.5 million pounds—more than 2,750 tons—of pills.
Studies show that a majority of abused prescription drugs are obtained from family and friends, including from the home medicine cabinet. "With prescription drug abuse rates continuing to be alarmingly high, this program gives our community the opportunity to rid our medicine cabinets from unwanted, expired or unused prescription drugs in a safe manner as opposed to allowing them to languish and potentially end up in the wrong hands, either intentionally or accidently," stated Cherokee County Sheriff David Groves.
###