Tulsa Woman Jailed for Burglary of Rural Columbus Home
04/17/2016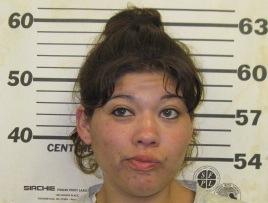 Tashayna King
Tulsa Woman Arrested for Burglarizing Rural Columbus Home

Cherokee County Sheriff's Deputy's were alerted to a possible residential burglary of a rural Columbus home early Friday morning when a passerby saw an unfamiliar vehicle at the residence.

When deputies arrived, they discovered 27 year-old Tashayna King of Tulsa, who had allegedly kicked in the back door of the home. In her vehicle, deputies located and seized suspected drug paraphernalia.

King was transported to the Cherokee County Jail where she has been ordered detained in lieu of $15,000.00 bail on allegations of Residential Burglary, Theft and Possession of Drug Paraphernalia.

"This is an excellent example of how an alert resident can help thwart criminal activity by taking the initiative to contact our office when they see suspicious activity. We are appreciative that the passerby contacted our office before the suspect was able to load her vehicle and head back towards Tulsa," stated Sheriff David Groves.

###