Scammon Man Arrested in Burglary Case
04/14/2016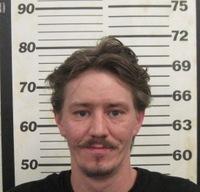 Roy Newton Turner
One Arrested in Theft of Farm Equipment
A rural Scammon man was arrested yesterday on allegations of burglary and theft of farm equipment.
Just before 8:30 a.m., deputies were dispatched to a farm property northeast of Columbus, where someone had entered into a barn and stole an auger wagon, auger, other equipment and scrap metal.
A short time later, the property owner saw a truck hauling the wagon and notified sheriff's deputies, who located and stopped the suspect. The driver and sole occupant of the vehicle was identified as Roy Turner, 30, of rural Scammon.
The remainder of the stolen property was located nearby and Turner was arrested and transported to the Cherokee County Jail.
Turner has since posted $7,000.00 bond on allegations of burglary and theft. Formal charges are expected to be filed this week.
###