Rolling Domestic Leads to Discovery of Drugs
04/11/2016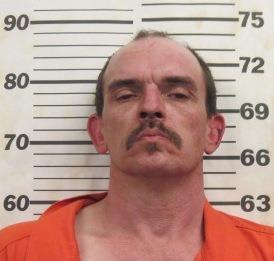 David D. Mays
Rolling Domestic Leads to Discovery of Drugs
A rural Weir man is facing drug and battery charges following his arrest by Cherokee County Sheriff Deputy's Sunday afternoon.
Shortly after 4:00 p.m., law enforcement officers were dispatched to a domestic disturbance, which was occurring in a vehicle traveling northbound from Southwest 5th and Messer Road, just outside of Columbus. Upon their arrival, they discovered the vehicle in a ditch. The driver, identified as 44 year-old David D. Mays, ran towards a nearby tree line and was apprehended following a foot chase.
While running from deputies, Mays threw a bag, which contained suspected methamphetamine and drug paraphernalia items. Deputy's also discovered, inside Mays' vehicle, suspected marijuana along with items consistent with the unlawful distribution of controlled substances.
Mays was transported to the Cherokee County Jail where he is being held in lieu of $20,000.00 bond on allegations of Possessing Methamphetamine with Intent to Distribute, Possession of Methamphetamine, Possession of Marijuana, Possession of Drug Paraphernalia, Domestic Battery, Battery, Interference with Law Enforcement and Driving Under the Influence.
Formal charges are expected to be filed by the Cherokee County Attorney's Office later today.
###