Tornado Response Command Transfers to City Hall
05/01/2014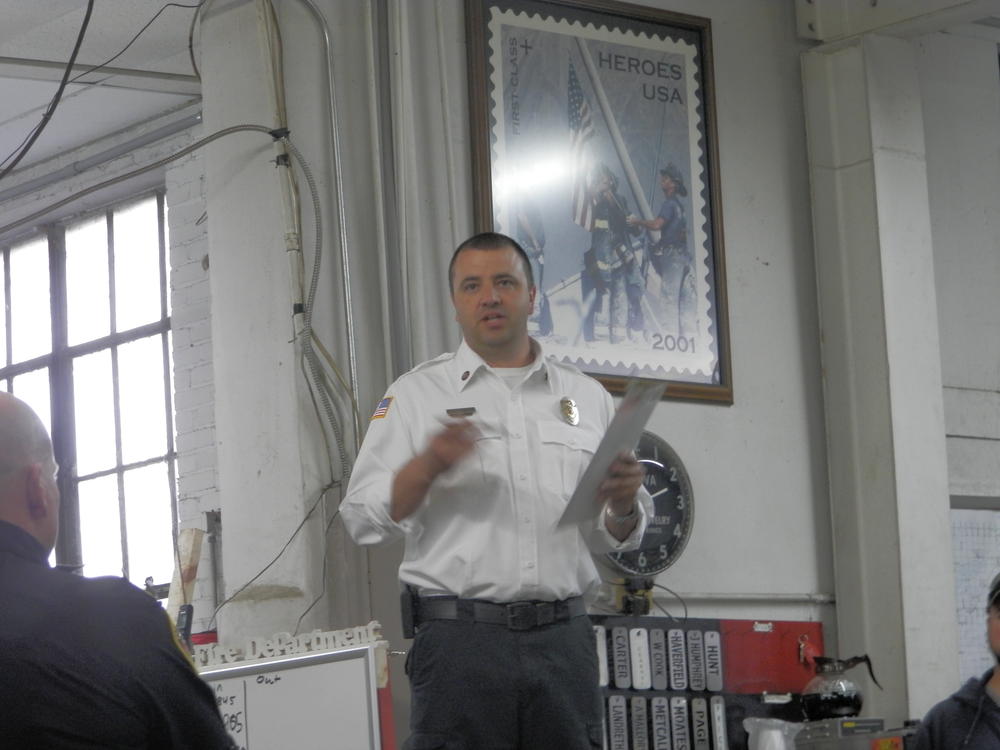 Fire Chief Gunnar Wixon
Baxter Springs Tornado Response Continues to Transition Towards Recovery
On Sunday, April 27th, 2014, at approximately 5:39 p.m., an EF-2 tornado struck through the center of Baxter Springs, leaving a trail of destruction which included approximately 200 damaged and destroyed homes along with businesses, in its wake.
Baxter Springs Fire Chief Gunnar Wixon immediately assumed overall command of the incident and assembled a team who began coordinating rescue efforts, which were carried out by over 100 law enforcement officers from 22 different agencies, emergency medical personnel from 12 area ambulance services, and firefighters that came from 25 neighboring departments, all of whom rushed to provide aid and assistance to our community.
That night, emergency medical personnel transported nine residents to Joplin hospitals due to non-life threatening injuries and were able to treat an additional 25 who did not require emergency transport.
Simultaneous to the initial search and rescue efforts, additional law enforcement officers established an outer perimeter, diverting incoming traffic at the city limits, and an even more secure perimeter around the impact zone. These actions were taken to allow emergency responders better accessibility to get to those needing medical care.
With debris scattered throughout the impact zone, residents and responders were also exposed to additional hazards from numerous downed power lines and natural gas related issues until utility crews could arrive and render them safe.
City crews were deployed alongside those from neighboring towns, and began clearing roadways from the destruction left behind.
In addition, a volunteer registration and coordination center was established (initially at the High School on Monday and then was moved to Burgraff Tire on Tuesday) where volunteers registered and received their assignments. As of this time, nearly 3,000 volunteers have completed that process, with more expected throughout this week and upcoming weekend.
"This storm has truly devastated the community of Baxter Springs, shattering not only homes, but the lives of our friends and neighbors. Although there was significant property damage, we were incredibly blessed that no lives were lost as a direct result of the storm," according to Fire Chief Wixon.
"One thing has certainly been confirmed as a result of this. The citizens of Baxter Springs, and this entire region, are good, caring and extremely generous people. As soon as the storm passed, we started seeing strangers helping strangers, neighbor helping neighbor and everyone just basically pulling together and helping out however they can to get things done. The response from citizens and emergency personnel alike has been incredibly overwhelming and encouraging."
"After the initial emergency response phase was completed, we began to transition towards the clean up and recovery part of our efforts. As a result of that transition, storm related response will now be focused out of City Hall, rather than the Command Center established at the fire department."
"In the weeks ahead, we will have an opportunity to assess our response in an effort to identify our strengths and make necessary changes to areas where improvements may be needed, so God forbid our community ever has to endure another event like this, we are even more prepared."
"I am proud of the positive way this community has persevered through the initial phase of this tragic event, and would like to thank the team of officials, responders and residents who have helped me lead our response efforts," concluded Wixon.
Note: Media inquiries regarding this press release announcement can be answered by Sheriff David Groves, incident public information officer. However, due to the transition, future press / public information can be obtained from Baxter Springs City Hall. Also, the curfew remains in effect and law enforcement will continue to heavily patrol the impact zone.