03/25/2014

Sheriff's Office Receives Platinum Award from AAA Allied Group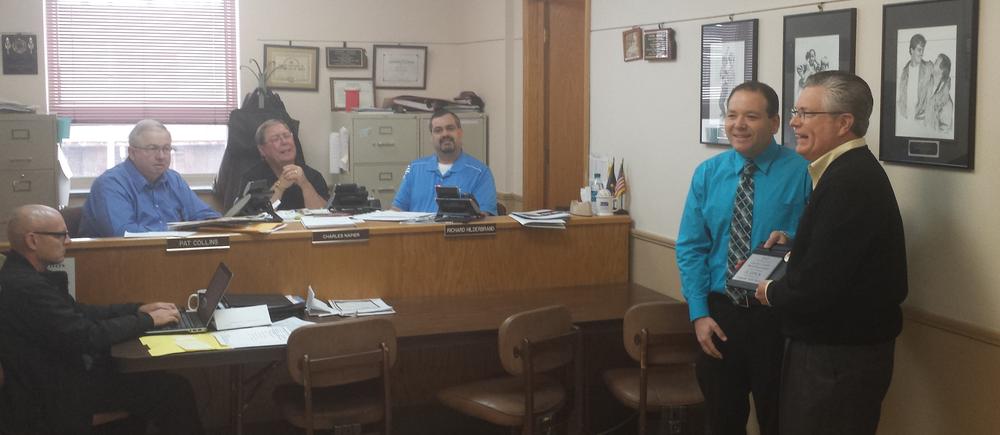 On Monday, March 24, 2014, the Cherokee County Sheriff's Office was honored to receive the Community Traffic Safety Platinum Award from Jim Hanni, Executive Vice President of AAA Allied Group of Kansas.
The Platinum Award is the highest achievement award given by AAA.
During the award presentation at the Board of County Commissioner's Meeting, Executive Vice President Hanni commended the Cherokee County Sheriff's Office in their efforts to reduce Drunk Driving, working with the county in addressing dangerous rural intersections, increasing student seatbelt usage rates as part of SAFE (Seatbelts Are For Everyone) among other successful projects.
The SAFE Program is a high school student run project, which brings in partners from law enforcement and private industry to focus on education, encouragement and enforcement related to seatbelt usage among school students.
Sponsors of the Cherokee County SAFE Program include State Farm Insurance –Agent Terry Bessman, Labette Bank, Columbus Telephone Company, Mike Carpino Ford, Empire District Electric Company, Jay Hatfield Chevrolet, Kansas Traffic Safety Resource Office, Kansas Department of Transportation, AAA Allied Group of Kansas, Kansas Trauma Council, Cherokee County Sheriff's Office, Kansas Department of Health and Environment and the Cherokee County Attorney's Office.
Media Kit