National Drug Take Back Day Set for April 30th
04/19/2011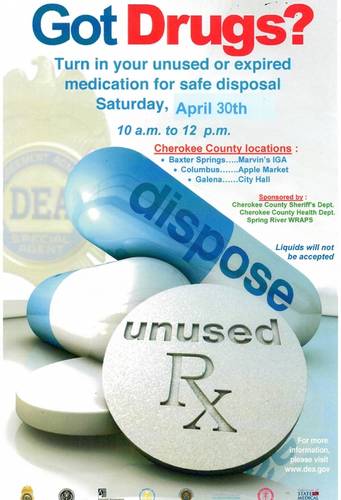 Cherokee County Drug
Take Back Poster
Last fall, the Cherokee County Sheriff's Office joined over 3,000 local, state and federal law enforcement agencies in the National Drug Tack Back Day.
Cherokee County residents contributed over 100 pounds of unused and unwanted pharmaceuticals, and over 121 tons were collected nationwide.
On Saturday, April 30th, 2011, citizens will have another opportunity to empty their medicine cabinets and have their expired and un-needed prescription medications properly disposed of.
Three convenient collections sites have been established by the Cherokee County Sheriff's Office, Galena Police Department, Cherokee County Spring River WRAPS and the Cherokee County Health Department.
Site location and hours of operation are:
Apple Market parking lot – Columbus – 10:00 a.m. to 12:00 p.m.
Marvins IGA parking lot – Baxter Springs – 10:00 a.m. to 12:00 p.m.
Galena City Hall parking lot – Galena – 10:00 a.m. to 12:00 p.m.
Prescription drugs are being misused and abused at alarming rates, which can lead to accidental poisoning, overdose and addiction.
The majority (70 to 80 percent, depending on the drug) of teenagers using prescription drugs got them from friends and family, including from their home medicine cabinets.
An event, such as this, also helps protect our water supplies. Recent studies by the Environmental Protection Agency, among others, have detected pharmaceutical drugs in varying concentrations in our nation's water supplies. While drugs in waterways also result from normal excretion routes and metabolic processes, there has been an increasing interest among the public in developing methods to dispose of unused pharmaceuticals to reduce their introduction into the water supply.
This event allows residents to not only get rid of unwanted medications, but protect those who may seek to abuse or misuse the drugs and keep them from being introduced into our waterways.
Additional Information
National Take Back Website