Fugitive Arrested - Facing New Charges
02/04/2011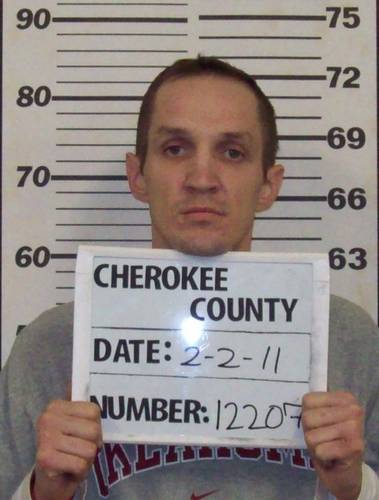 Jeremy Diel
On Wednesday, February 2nd, 2011, a Cherokee County Sheriff's Officer observed a man walking down Bagdad Road, in rural Cherokee County, carrying a duffel bag.
Believing that the man may have had car trouble due to the recent heavy snow, the deputy stopped to offer him a ride.
At that point, the deputy recognized the man as Jeremy Diel, 29, of Carl Junction, Missouri.
Diel has been wanted on an outstanding arrest warrant out of Cherokee County for failing to appear in court proceeding for his alleged involvement in a 2010 case regarding the manufacturing of methamphetamine.
Diel fled on foot, leading deputies on an 11 minute foot chase through the snow and terrain.
An area resident saw the event and notified emergency dispatchers that Diel was hiding in a nearby boat.
Deputies surrounded the boat and took Diel into custody.
Diel is being held in the Cherokee County Jail without bond on the original Cherokee County warrant for his arrest.
Diel is also being held on a Baxter Springs Municipal Arrest Warrant and 4 Arrest Warrants out of Jasper County, Missouri.
In addition, the Cherokee County Sheriff's Office will be seeking additional charges, after they discovered a suspected methamphetamine lab in the duffel bag Diel threw down during the chase.
In the bag, investigators discovered equipment associated with the manufacture of methamphetamine, along with chemicals in various stages of the manufacturing process, and suspected finished methamphetamine and drug paraphernalia items.