Suspect Arrested After Being Pulled from Spring River
09/14/2010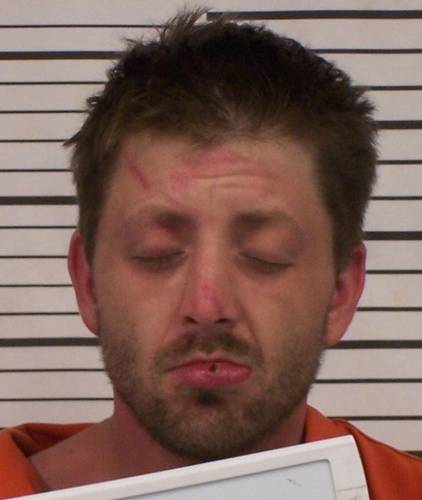 Kevin Duncan
At approximately 6:17 a.m. on September 14, 2010, a vehicle driven by Kevin J. Duncan, 30, of Columbus, was intentionally driven into Spring River, east of Riverton, Kansas.

Sheriff's Deputies had previously been asked to be on the lookout for Duncan's vehicle by the Galena Police Department due to disturbances he was alleged to have been involved with in Columbus and Galena throughout the night.

At 6:12 a.m. a deputy in Riverton observed a vehicle matching the description given and was attempting to confirm that it was the vehicle driven by Duncan by running the license plate.
Duncan apparently noticed the deputy and began passing vehicles, ran through the Riverton stop light, drove through a round-a-bout backwards, struck another motorist and continued to drive reckless.

By this time the deputy had initiated his emergency equipment in an attempt to stop Duncan.

Duncan then called 911 and made comments that indicated he may be suicidal.

At that point Duncan turned down an access road and drove his car into the river. Law enforcement saw him swim from the vehicle towards a small island.

A perimeter was immediately established and the Galena Fire Department Water Rescue Team was contacted, who was able to provide assistance on the water.

About an hour later, a nearby resident notified law enforcement that he saw Duncan in the river.

When officers arrived at Duncan's location, they attempted to persuade him to voluntarily go to the riverbank. Unfortunately, he instead became extremely combative, and attempted to strike the deputies with a long branch he found in the water.

Three deputies entered the water, and following a struggle, in which Duncan, on a couple occasions, attempted to gain control over a deputy's firearm, was secured and taken into custody.

Duncan was assessed by Cherokee County Emergency Medical Staff on scene and is scheduled for a mental evaluation.

At this time Duncan is being held on suspicion of Aggravated Assault on a Law Enforcement Officer, Aggravated Battery, Fleeing Law Enforcement, Resisting Arrest and Leaving the Scene of an Accident.

Formal charges are expected to be filed later this week.