Sheriff's Office Focused on Keeping Roadways Safe For Holiday Travelers
11/18/2023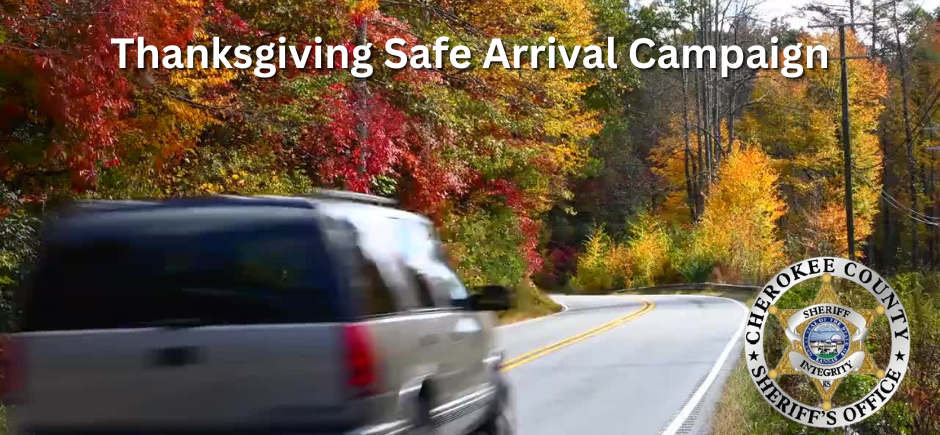 The Cherokee County Sheriff's Office will be joining other law enforcement agencies across the state in the Kansas Thanksgiving Safe Arrival Campaign, which runs from November 18th, through November 26th, 2023.
Estimates show over 55 million American's are expected to travel this Thanksgiving Holiday, which is up over 2% from last year.
"With an increase in motorists also comes increased chances of being involved in a traffic crash. Our mission with this campaign is to help make sure families get to and from their holiday gatherings safely. To help with that effort, our agency will have additional deputies out on the highways and secondary roads specifically focused on watching for unsafe driving, such as speeding, choosing to drive while not being buckled up or choosing to drive impaired," stated Cherokee County Chief Deputy Nate Jones in announcing the agencies participation in the enforcement campaign.
According to the Kansas Department of Transportation, the day before Thanksgiving sees more impairment-related crashes than any other day of the year.
"We understand the Thanksgiving Holiday is a great opportunity for those who converge back to their hometown to get together with family and friends, including college students, who often participate in what's known as Blackout Wednesday. We strongly encourage anyone celebrating throughout the holidays with alcohol to ensure they have a designated sober driver ahead of time and always buckle up. One empty chair at the table is one too many," concluded Chief Deputy Jones. A grant from the Kansas Department of Transportation (KDOT) will fund overtime enforcement efforts.