Click It or Ticket Enforcement Campaign Slated
05/20/2023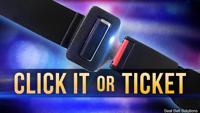 Click It or Ticket -May 22- June 4, 2023
Kids will soon be on summer break and families will be making plans to hit the road for long weekends or vacation. With an expected increase in traffic on roadways, Cherokee County Sheriff David Groves reminds residents one of the best proven ways to save your life in a crash, is by wearing a seat belt.
Tragically, over 130 lives have already been lost on Kansas roadways this year.
In an effort to keep motorists safe, the Cherokee County Sheriff's Office will be joining other area law enforcement agencies in the Click It or Ticket Campaign May 22 - June 4, 2023.
The campaign will focus on safety education and enforcement of Kansas Occupant Protection Laws.
"The period between Memorial Day and Labor Day is grimly referred to as the 100 deadliest days, because it's the time of year when fatal crashes involving teens dramatically increase. Even the loss of one life in our community is too much, especially when such tragedy can be avoided. That's why our agency will be joining our law enforcement partners across the region to make sure those operating on our roadways are doing so in a safe manner," stated Cherokee County Sheriff David Groves in announcing the campaign.
***