Weir Man Jailed After Domestic Assault
10/06/2022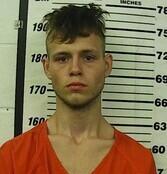 Blake T. Hoover
A Southeast Kansas man is in custody facing felony allegations after Cherokee County Sheriff's Deputies responded to a domestic disturbance Wednesday afternoon.
Just before 5:00 p.m., Sheriff's Deputies were dispatched to the home in Weir. Upon arrival, the physical quarrel was ongoing. The responding deputy entered the home and detained 18 year old Blake Hoover.
As a result of the on-scene investigation, Hoover was transported to the Cherokee County Jail where he is being held on allegations of Kidnapping, Domestic Battery, Possessing Methamphetamine and Possessing Drug Paraphernalia.
"October is Domestic Violence Awareness month and it's important as a community we recognize domestic violence can and does occur at all times of day, in all types of neighborhoods and involves all types of people, without regard to social or economic status," according to Cherokee County Sheriff David Groves.
"Equally important is for those who are in abusive relationships to know they are not alone. In fact, although considerable progress has been made in reducing domestic violence over the years, 1 in 5 women and 1 in 7 men have been severely physically abused by an intimate partner. Just as important is knowing there is help and resources available to assist in getting out of a physically or emotionally abusive situation," continued Sheriff Groves.
Locally, those seeking assistance can call:
Protection From Abuse / Stalking Orders - 1-800-723-6953
Safehouse - 1-800-794-9148
Go to www.vinelink.com to receive notifications when an offender is released from custody
Call 911 in case of emergency of to reach the Cherokee County Sheriff's Office non-emergency 620-429-3992 or 620-848-3000