Riverton Man Sentenced to Over 8 Years
09/29/2022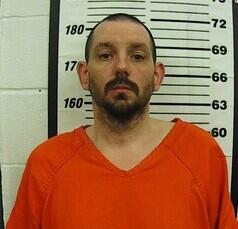 Adam C. Evans
A sentencing hearing in Cherokee County District Court on Thursday resulted in a prison term being handed down for Adam C. Evans.
Evans, age 37, of Riverton, was sentenced to 104 months imprisonment.
"The roughly eight and a half year prison sentence stems from numerous cases investigated by Cherokee County Sheriff's Deputies, going back to 2018," according to Cherokee County Sheriff David Groves.
"Evans pled guilty to the August 2018 Burglary of a rural Cherokee County home where numerous firearms were stolen, a spring 2021 case where he barricaded himself in a local business when deputies attempted to arrest him on an outstanding warrant and he was found to be in possession of methamphetamine, and an August 2021 incident where Evans fled into a wooded area, striking a Law Enforcement K9 with a branch when Cherokee County Sheriff's Deputies again attempted to arrest him on additional outstanding warrants for his arrest," according to Sheriff Groves.
The formal charges Evans pled to are: Inflicting Harm to a Law Enforcement K9, Burglary, Possessing Methamphetamine and Interference with Law Enforcement.
Evans has been held in the Cherokee County Jail since his arrest in August 2021.
The cases were prosecuted by the Cherokee County Attorney's Office.