Sheriff Offers Back to School Safety Suggestions
08/05/2022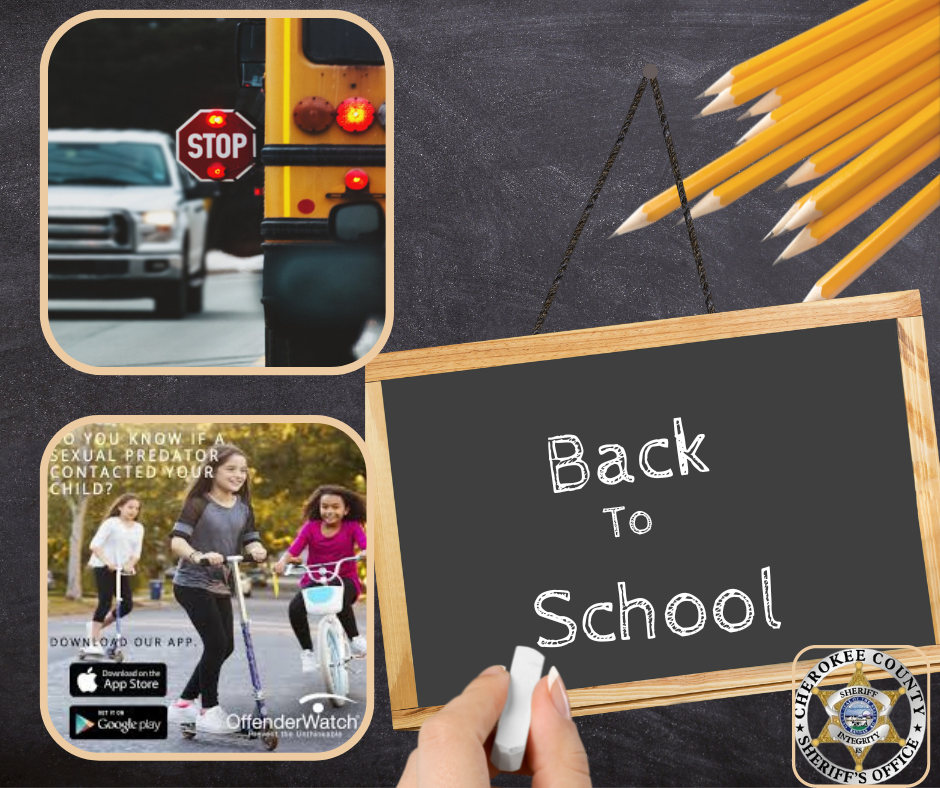 As parents start enrolling their children for the upcoming school year, Cherokee County Sheriff David Groves wants to remind residents to start allowing a little extra time to get to and from their daily destinations.
"We want to make sure this is a safe school year, so as bus drivers start running their routes in the coming weeks, we encourage motorists to plan for potential slight delays. If a school bus is stopped with the stop sign extended and red lights flashing, all vehicles behind the bus and in front of it are required to stop until the bus driver has shut off the red lights and retracted the stop sign," according to Sheriff Groves.
"This is also a great time of year for parents to make sure their children know their home address and memorize their parents phone number. Additionally, I recommend parents take advantage of a free mobile device app, offered by the Cherokee County Sheriff's Office through a partnership with OffenderWatch," continued Sheriff Groves.
Parents who download the OffenderWatch app on their mobile device and the devices of their family members will have the capability to see their child's location in relation to registered offenders' homes, even those outside of Cherokee County. Additionally, on the app, parents will find online safety information and tips on how to talk to children about offenders. While this service is free for iPhone and Android users, an upgraded paid service, "Protection Plus", is offered for just $10.00 per year per family (does not matter how many devices are added). With the Protection Plus Version, parents can receive a notification if their children are contacted online (by text, email, social media) by a registered sex offender. They will also be notified if their child is near a registered offender's home for a period of time.