Sheriff Reminds Residents of Upcoming Concealed Carry Permit Increase
06/08/2022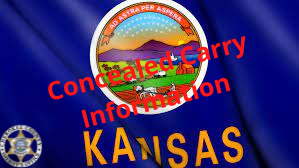 Although Kansas adult residents who are not legally prohibited from possessing firearms are able to carry concealed within the state without a permit, Cherokee County Sheriff David Groves wants to remind citizens of an upcoming important date as it relates to the Kansas Protection of Firearms Act.
"Many residents within our community wish to have a concealed carry permit, particularly due to our geographical location and their desire to lawfully carry concealed in neighboring states or other parts of the country they visit. In an effort to save those who intend on applying for a Kansas Concealed Carry Permit in the near future some money, I want to make sure everyone is aware of the application fee increase to the state, from $79.50 to $100.00, after June 30, 2022. The change is a result of the passage of HB2058 in 2021," according to Groves.
The notice of the fee change is on the first page of Concealed Carry Permit Application, which can be processed at the Cherokee County Sheriff's Office Monday thru Friday from 8:30 a.m. to 4:30 p.m.